The Walk-In Rescue body has exterior storage accessible from the ground level, as well as interior storage, without the need to climb on top of the rescue body. The heavy duty all aluminum interiors are constructed with shelving and vertical dividers to help organize and secure equipment with doors and cargo netting. The interiors can be climate controlled with seating for the crew members. Optional cab to body passageways enhance the accessibility to the interior storage area.
Reasons why a department would choose a Walk-In Rescue
The popularity of the Walk-In Rescue design has increased over the past few years.
The layout provides enhanced safety for the crew with all equipment stored at ground level.
The interior cabinetry offers additional storage in a climate controlled and well lighted area.
Seating is available in both the cab and the body crew areas.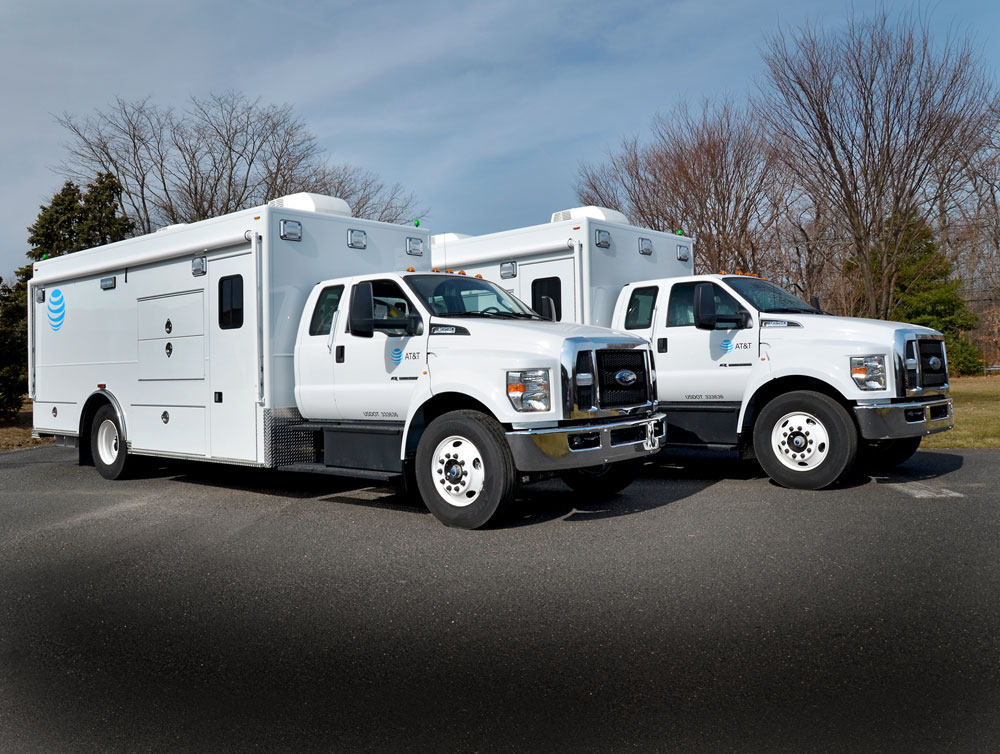 21' To 22' Walk-In Body Type
23' To 27' Tandem Axle Walk-In Body Type
The basic reason for upgrading to a Tandem Axle Rescue is to gain additional storage space.
Tandem axle designs provide better traction while driving and braking, improved stability and the ability to have more payload capacity.
Rescue 1 normally upgrades to the tandem rescues when the body lengths exceed 22 feet.
The drive lines of tandem rescues are typically upgraded to a higher torque engine and suspensions are increased to a higher capacity.
How equipment is typically stored in a Walk-In Rescue
Cargo netting is a great choice to secure equipment.

All equipment storage is secured in compliance to NFPA 1901.

Chassis selections range from commercial to custom, two and four door cabs.

It is also common for walk-in rescues to have access from cab to body through large weather proof flexible passageways.

Options for the HVAC range from roof mounted recreational units to stand alone self-contained systems.
Some walk-in rescues are designed with the crew seating area towards the front of the body. The compartments aft of the seating area can then be designed with transverse storage for equipment. Roof top storage compartments are accessible with a ladder or lift-up staircase.
Interior layouts with crew bench seats are great for the storage of long ladders, pike poles, long cribbing and struts.
All seating positions are NFPA compliant.
Seating options range from individual flip down cushions to multi-position bench seats.
It is common to supply and install refrigerators, coffee makers and microwaves.
Surveillance cameras are another useful option. The camera is normally mounted on top of a telescope pole and or light tower. The onboard monitor can be installed in the climate controlled crew area and or recorded for future reviewing.
Breathing Air/SCBA Re-Filling Station, Dive and Water Rescue, Rehab and Mobile Command are just a few of the many additional missions that can be supported in a Walk-In Rescue.
The all-aluminum interior cabinets are equipped with adjustable shelving with NFPA compliant roll-up or hinged doors and cargo netting to secure equipment when in route.
Rescue 1 utilizes standard double wall construction methods with no common wall materials. The roof framing is built with a crown to deflect and prevent water pudding. The extreme duty all aluminum interior construction will hold up to the toughest usage. No plywood is utilized anywhere. The interior finishes are offered in brushed mill, polished diamond plate, poly coating and or stainless steel.
2022 Deliveries
,
Chassis Manufacturers
,
Deliveries
,
Ford
,
New Jersey
,
New Jersey Emergency Vehicles
,
RESCUE 1
,
State
,
Vehicle
,
Walk In
FIND THE CLOSEST DEALER IN YOUR AREA
Rescue 1 is the brand you can rely on for extreme duty rescues.
Every Rescue 1 rescue vehicle is crafted to our high standards for performance and exceeds our customers' expectations.