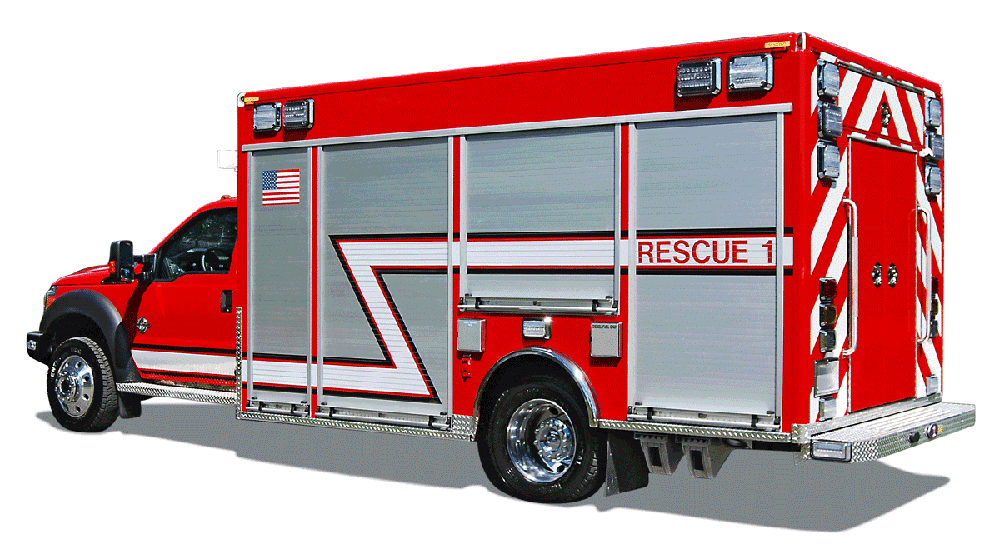 Light Duty Rescues are designed for chassis with a limited Gross Vehicle Weight Rating, GVWR. The outer panels and the exterior compartments walls and ceilings are constructed with .125" aluminum to maximize payload. Light Duty Rescues are available in Walk-Around and Walk-In body designs. Generators, Light Towers Air Compressors, etc. are available as required.
Besides the cost differences compared to large model units, some communities with narrow roadways may not support vehicles with longer wheelbases and turning radiuses.
The scaled down rescues can provide many of the same functions that larger units offer.
Built-in components (generators, scene lighting, hydraulics for auto extrication, breathing air systems, etc.) are custom engineered to operate within the smaller units.
Rescue 1 closely monitors the electrical amperage loads and actual weights of all equipment installed.
The chassis platforms are available in 2 and 4 door cabs. Personnel can also be seated within the rescue body. All seating is compliant with NFPA 1901.
Is a Light duty Rescue actually light weight?
Light Duty Rescues are built to be lighter in overall weight to provide a greater margin of usable payload for the department's equipment. There is nothing light duty about our standard construction methods.
Extended Cab Light Duty Rescue
Walk Around Light Duty Rescue
Walk In Light Duty Rescue
How are the Rescue 1 Light Duty Rescues constructed?
Rescue 1 manufactures all rescue bodies, walk-around and walk-in models with double wall construction. There are no common walls utilized anywhere.

Each exterior compartment is built separately, sharing no wall materials with adjacent compartments.

All electrical wiring harness are concealed.

All Rescue 1 rescue bodies are complete frames with extruded aluminum structural tubes and skinned with aviation flat aluminum panels.

The vertical and horizontal corners are constructed with extruded aluminum construction structural tubes.

The upper corners have structurally integrated high angle tie points compliant with NFPA Rope Rescue

.
Is there a popular length?
Light Duty Rescue lengths range from 12' to 14'-6" and are normally the Walk Around model
What types of tools are usually stored in a Light Duty Rescue?
2022 Deliveries
,
Chassis Manufacturers
,
Deliveries
,
Ford
,
Light Duty
,
New Jersey
,
New Jersey Emergency Vehicles
,
RESCUE 1
,
State
,
Vehicle
FIND THE CLOSEST DEALER IN YOUR AREA
Get our Rescue 1 Brochure Now!
Rescue 1 is the brand you can rely on for extreme duty rescues.
Every Rescue 1 rescue vehicle is crafted to our high standards for performance and exceeds our customers' expectations.